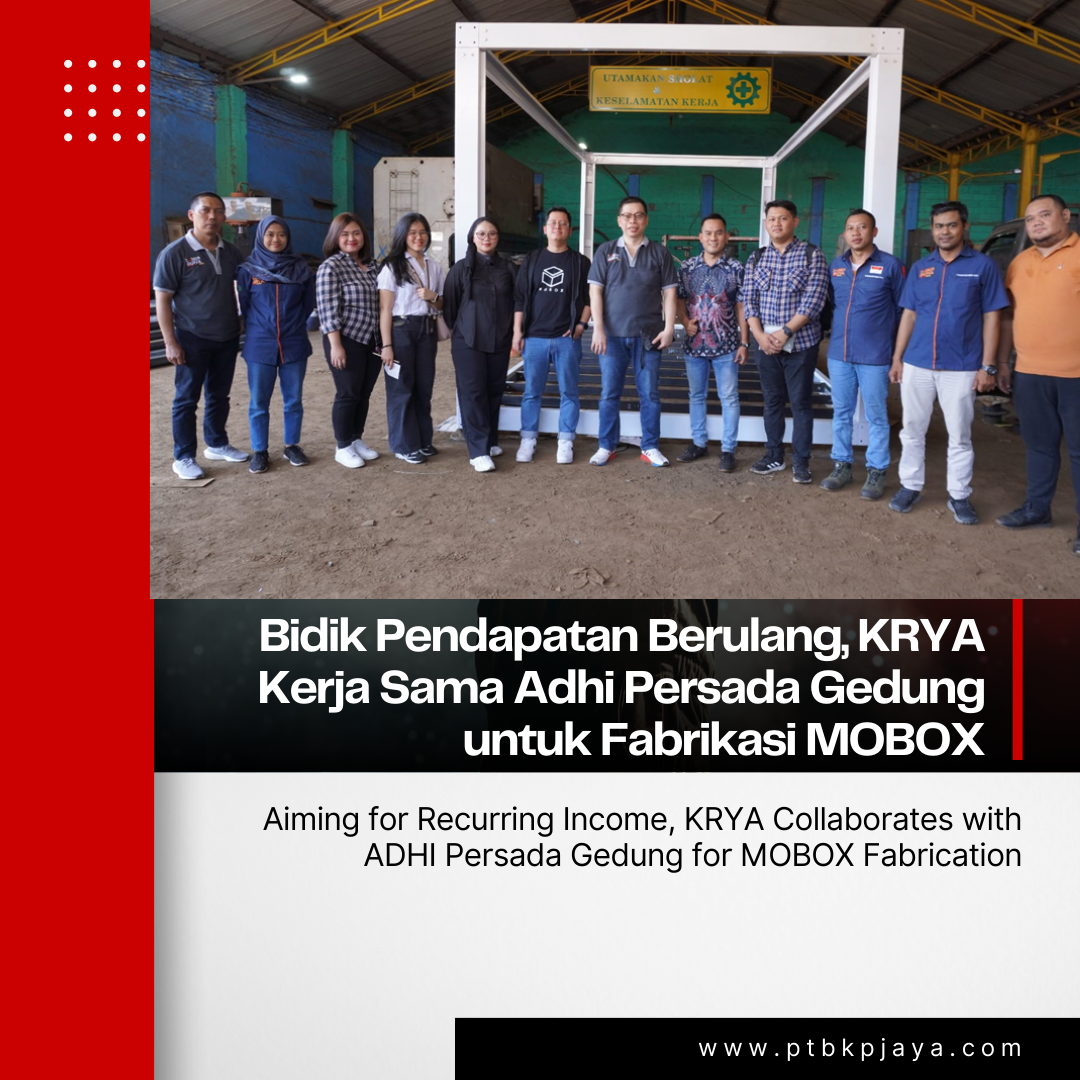 Aiming for Recurring Income, KRYA Collaborates with ADHI Persada Gedung for MOBOX Fabrication
Surabaya, October 16th,2023
PT Bangun Karya Perkasa Jaya Tbk. (KRYA), a leading company in the field of civil construction, has gained the trust of Adhi Persada Gedung (APG), a subsidiary of PT Adhi Karya (Persero) Tbk. (ADHI), to produce and fabricate Modular Boxes (MOBOX). In the initial stage, APG has ordered more than 146 MOBOX units from KRYA, with an order value of more than IDR 3 billion. This strategic collaboration, in which KRYA is Adhi Persada Gedung's first choice, illustrates the strong commitment of both companies to provide innovative and sustainable construction solutions to the market. MOBOX, as an efficient and environmentally friendly pre-fabricated construction element, is expected to change the construction paradigm. KRYA's extensive expertise in construction, combined with superior capabilities in pre-fabrication and building technology, makes KRYA the ideal partner for producing high-quality MOBOX units. MOBOX is expected to provide added value to the industry by contributing to reducing construction waste, speeding up project schedules, and increasing energy efficiency. Dharmo Budiono - President Director of PT Bangun Karya Perkasa Jaya Tbk., expressed his joy at Adhi Persada Gedung's trust, "We are very proud that Adhi Persada Gedung has chosen us to be a partner in the MOBOX project. Together, we are committed to presenting a construction solution that is sustainable and innovative." MOBOX is a very flexible construction solution and can be adapted to various types of projects, from residential to commercial and industrial projects. This is in line with the joint vision of KRYA and ADHI Persada Gedung to improve the quality and efficiency of construction in Indonesia. Both companies are very optimistic that this collaboration will help meet the market's increasing need for efficient and environmentally responsible construction solutions.
= = =
About PT Bangun Karya Perkasa Jaya Tbk.:
PT Bangun Karya Perkasa Jaya Tbk. has the stock ticker code KRYA, is a leading national construction company that specializes in steel fabrication and general contracting. Founded by Mr. Dharmo Budiono, ST and Mrs. Brigitta Notoatmodjo, ST on January 7 2007. In 2015, PT Bangun Karya Perka Jaya Tbk. succeeded in achieving ISO 9001:2015 regarding quality management and ISO 14001:2015 regarding environmental impact management and ISO 45001:2018 regarding occupational health and safety management. KRYA's focus is on infrastructure projects (jetty, roads, bridges and water structures) and industrial buildings such as factories and warehouses.
About Adhi Persada Gedung:
Adhi Persada Gedung is a subsidiary of PT Adhi Karya (Persero) Tbk, which specializes in the construction and property development sectors. Founded on December 10th, 2013, Adhi Persada Gedung operates in the construction services sector, especially high-rise building construction. This company was developed to answer the challenges in the growth of the construction services business industry, especially high-rise buildings, which are experiencing rapid growth. Along with the growth of high-rise building investment by both state-owned companies and the private sector, Adhi Persada Gedung is optimistic and confident in working hard to always realize the actualization of ideas as a competency development.
###
For further information, please contact:
Dharmo Budiono - President Director of PT Bangun Karya Perkasa Jaya Tbk.
Surabaya Office
Margomulyo Jaya Block H/10-11 Jl. Sentong Asri (Raya Margomulyo), Surabaya
Octagonal Plaza Ruko Block C/851-852 Darmo Permai III, Surabaya
Phone: +62-31-9900 1448
Jakarta Office:
Tower Fontana Floor 31 Units J2 & K2
The Mansion Bougenville Block D.
Jl Trembesi – East Pademangan, North Jakarta 14410
Phone: +62-21-2260 7029