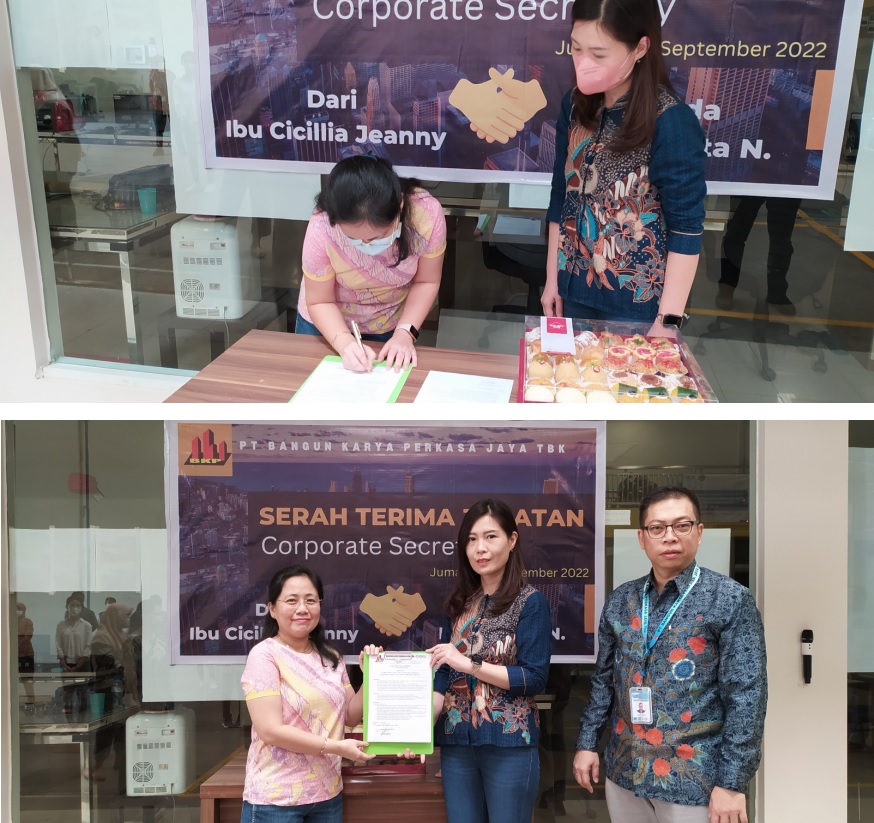 PT. BANGUN KARYA PERKASA JAYA Tbk. Announce The Turnover of New Corporate Secretary
Surabaya, September 30th, 2022
PT. Bangun Karya Perkasa Jaya Tbk. is a leading national construction company specializing in steel fabrication and general contractors, with the challenge of moving forward and getting better relations with shareholders and other stakeholders, it has announced the replacement of the former corporate secretary. occupied by Mrs. Cicillia Jeanny, then to Mrs. Brigitta Notoatmodjo who also serves as a Director of the company.
The figure of Mrs. Brigitta Notoatmodjo is a director of the company who is also the founder, has a strong leadership spirit and soul that is united with the company so that it will make it easier for the company's steps to become bigger and better known by shareholders and other stakeholders while still prioritizing corporate governance based on Good Corporate Governance.
PT. Bangun Karya Perkasa Jaya Tbk held a Corporate Secretary Handover (Sertijab) event which was held at the office located at Margomulyo Jaya Blok H 10-11 Surabaya.
The event was chaired by the President Director of PT Bangun Karya Perkasa Jaya Tbk., and attended by the Board of Commissioners Mr. Pramana Budihardjo, ST as President Commissioner, and Mr. Budi Herlambang, S. H., M. H. As Independent Commissioner and Audit Committee Mr. Ronald B Sitolang, as well as all levels of Management and Staff of PT Bangun Karya Perkasa Jaya Tbk.
Mr. Dharmo Budiono as the President Director in his speech said that PT Bangun Karya Perkasa Jaya Tbk has been challenged to move forward in this era of globalization and digitalization. The position of Corporate Secretary has a Functional Position that is a reflection and representation of The Company with a strong and integrated soul and personality, and it is the identity of The Company. So it is an appointment for Mrs. Brigitta who also serves as Director to carry out this functional position.
Mrs. Brigitta in her speech expressed her gratitude for the trust that has been given and will try hard to provide the best for PT Bangun Karya Perkasa Jaya Tbk.
The event started after Toolbox Meeting and was attended by all Staff. Tool Box Meeting is a routine activity every Friday in part of Safety Management Programs. This event was opened by a Speech from the Directors of PT Bangun Karya Perkasa Jaya Tbk, followed by the Signing of The Handover of The New Position, speech and impression word from Mrs. Brigitta continued. The speech and impression word of Mrs. Cicillia's message, Farewell Greetings, and Acknowledgments To the entire Board of Directors and Staff of PT Bangun Karya Perkasa Jaya Tbk, the event closed with a closing prayer and a group photo session.
Congratulations on carrying out the new mandate Mrs. Brigitta, We hope PT Bangun Karya Perkasa Jaya Tbk. can always grow and succeed in a sustainable management system and provide benefits for all.
Editor Team
PT. BANGUN KARYA PERKASA JAYA Tbk.